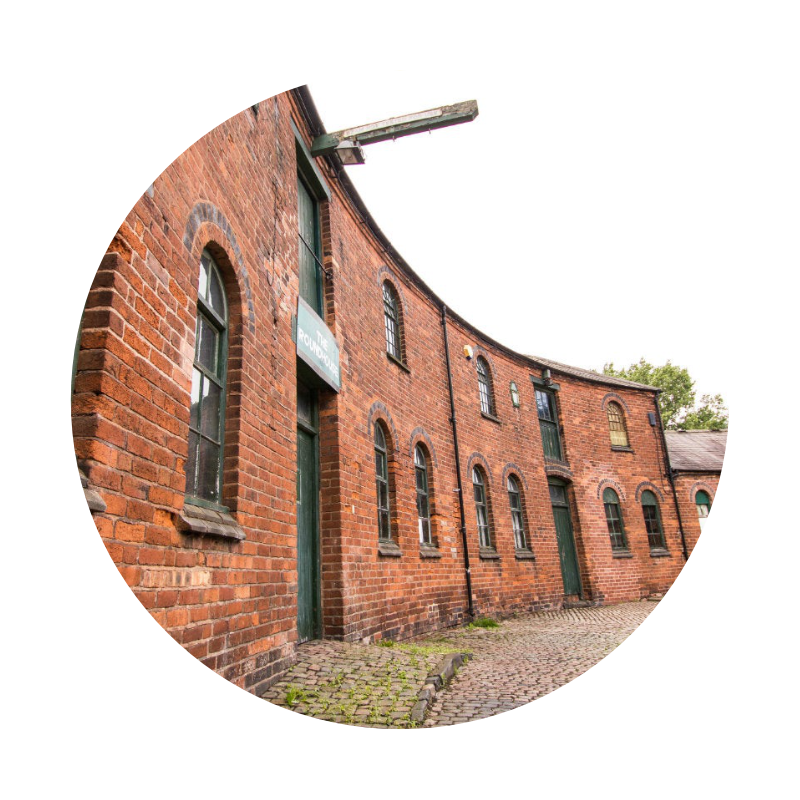 Introducing the Roundhouse: Our Curious Survivor
What was the Roundhouse? What is the Roundhouse now? And why is it round?
Join us for an informal guided tour taking in our origins as a bustling, noisy Victorian hub, right through to a newly repurposed site in 2020. Our tour will take in local history with an interactive twist, so be prepared to get involved.
Please note: the Roundhouse is extremely photogenic. Bring a charged smartphone!
Weather watch: A mix of indoors and outdoor spaces throughout this tour
Get in some steps: 1000
Distance: 1km
Duration: Budget for 90-minute walk
Additional information, some ideas:
The importance of practical footwear.
Our Victorian cobbles can be a little uneven in places and at the Roundhouse most of our experiences will involve some walking. Sturdy, comfy shoes are your friend.
The great British outdoors.
Roundhouse experiences will take you out into the great outdoors. This means two things:
1. We're optimists here at Roundhouse Birmingham
2. It's best to prepare for the weather, which in the UK often means sunglasses AND a poncho!
Guided tours will go ahead whatever the weather.
Tour length: 90 minutes
Tour Start and Finish: Roundhouse Adventure Base
Prices: £8.50 | £6.50 conc. | £5.00 B16 postcodes
All guided tours are available for advanced bookings.
Tickets go off sale two hours prior to the advertised start time and you can call the Roundhouse team centre to check on late availability via 0121 123 4567. Please arrive nice and early and remember to leave time for navigating Birmingham city traffic at peak travel times.
Most frequent questions and answers
Most frequent questions and answers
Roundhouse Birmingham accepts card payments and cash. We accept all card, Apple Pay, Android Pay and Samsung Pay, except for American Express. We don't have a cash machine on site – you'll find the nearest one in Brindley Place.
We recommend that on our tours, under 14s must be accompanied by an adult aged 18 or over, with a ticket.
Place holder for route info, to be provided by Roundhouse Team ASAP.