Bonus content including a gallery of photos, an Central News report from the Roundhouse in the early 1990s, and a selection of photos and materials from The Fiddle & Bone era.
A look at the Roundhouse, that was... (1970s & 1980s)
The Roundhouse didn't always look as neat and tidy as it does today, but it did stay in use for almost all of the 20th century in a range of guises.
The photos below show the building in its capacity as a depot for Birmingham City Council, after it ceased to be used as a stables; situated alongside a very different canal network to the one we find today.
Hidden history in a stableyeard (The Birmingham Post, Friday September 29 1978)
"With a little vision a lot could be done with this place and these things, but is Birmingham able or willing to do it?".'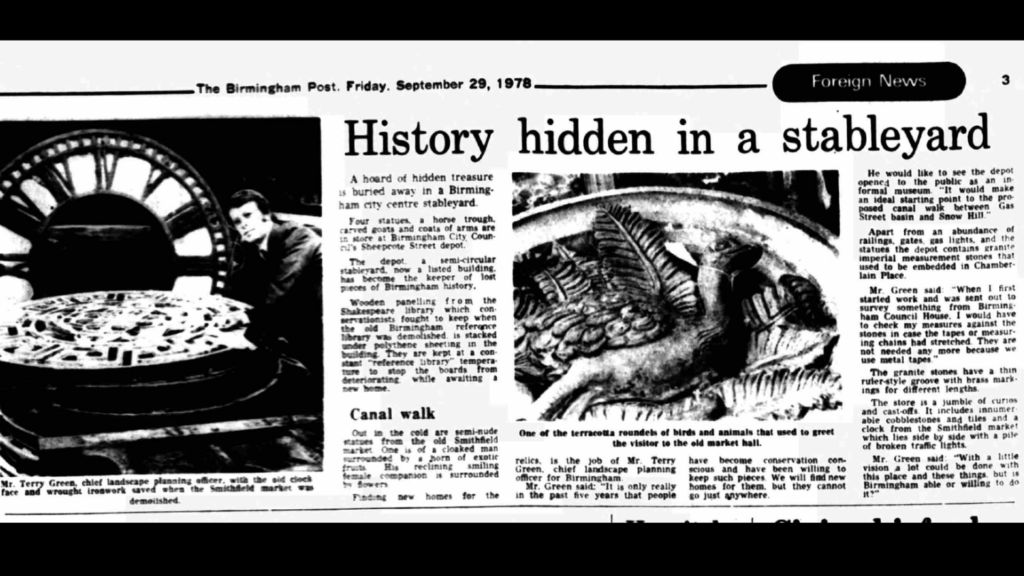 'A hoard of hidden treasure is buried away in a Birmingham city centre stable yard. Four statues, a horse trough, carved goats, and a coat of arms are in store at Birmingham City Council's Sheepcote Street depot. 
Wooden panelling from the Shakespeare library which conservationist fought to keep when the old Birmingham reference library was demolished is stacked under polythene sheeting in the building. They are kept at a constant 'reference library' temperature to stop the boards from deteriorating while awaiting a new home… 
Canal Walk
Out in the cold are semi-nude statues from the old Smithfield market. One is of a cloaked man surrounded by a horn of exotic fruits. His reclining smiling female companion is surrounded by flowers.
Finding new homes for the relics is the job of Mr Terry Green, Chief Landscape Officer for Birmingham.
Mr Green said: "It is only really in the past five years that people have become conservation conscious and have been willing to keep such pieces. We will find new homes for them, but they cannot just go anywhere."

He would like to see the depot opened to the public as an informal museum. "It would make an ideal starting point to the proposed canal walk between Gas Street basin and Snow Hill".
Apart from an abundance of railings, gates, gas lights, and the statues the depot contains granite imperial measurement stones that used to be embedded in Chamberlain Place.
Mr Green said, "When I first started work and was sent out to survey something from Birmingham Council House, I would have to check the measures against the stones in case the tapes or measuring chains had stretched. They are not needed any more because we use metal tapes".
The granite stones have a thin ruler-style groove for brass markings for different lengths.
The store is a jumble of curios and cast offs. It includes innumerable cobblestones and tiles and a clock from the Smithfield market which lies side by side with a pile of broken traffic lights. 
Mr Green said: "With a little vision a lot could be done with this place and these things, but is Birmingham able or willing to do it?".'
ITV Central News footage (1993)
In 1993 Central News visited the Roundhouse with master puppeteer John Blundell and discussed a new idea for the use of the derelict Roundhouse building… The Roundhouse looks a little dishevelled at this point.
Thank you to Norman Bartlam at Ladywood History Group for the find.
(Copyright ITV Central News)

Full Circle / The Fiddle & Bone era
As we've seen above, the Roundhouse kept going as a council depot until the 1990s, and the building had also been used as a makeshift conservation store for the city.
However, by the 1990s, the building was put up for sale. Thankfully, the 'for sale' sign caught the eye of a new company, Full Circle, which was set up by a trombonist and violinist from the City of Birmingham Symphony Orchestra. A deal was struck, and in the late 1990s, a derelict Roundhouse was renovated.
At this time, the site was used for exhibitions, offices, and craft activities, while the wood mill next door was transformed into The Fiddle and Bone pub.
Sadly, The Fiddle and Bone closed in the early 2000s and the Roundhouse – now owned by Canal & River Trust – was again searching for a purpose.