A new lease of life for a hidden gem, offering something different to see and do in Birmingham.
We're currently closed, re-opening to the public on Wednesday 12 January. Wishing all our visitors a very Happy New Year.
Roundhouse Birmingham is an independent charity running a selection of tours to enable visitors to #SeeTheCityDifferently. From walking tours of our wonderful city, to kayaking Birmingham's network of canals, we have something for everyone. Explore our Visitor Centre and Display Space for more information on the fascinating history of this curious building - we're looking forward to welcoming you.
We're Introducing the Roundhouse with an outdoor guided tour, exploring the history of Birmingham in our first guided walk, A City in One Square, and offering two brand new kayak experiences along Birmingham's amazing canals, Bustling Birmingham and Green Escape.
NEW – Birmingham Heritage Week events now ON SALE!
If you're passionate about heritage and engagement, and have a smiley personality, you'd fit right in with the team. Roundhouse Birmingham have a new exciting opportunity to join the team as our Programming & Partnerships Officer. Find out more about our opportunities, and apply today!
Having just completed a large renovation project, Roundhouse Birmingham opened in July 2021 as a lively new hub. The space includes a visitor centre, display space, café, creative office space and a programme of tours and events.
Want to keep up to date with Roundhouse news, including being the first to hear when new tours and events go on sale?
WE'RE RECRUITING!
Find out more about volunteering at Roundhouse Birmingham, and sign up to join the team.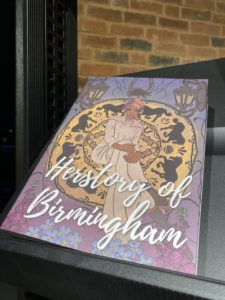 'Herstory of Birmingham' is a brand new publication about women who played an important role in Birmingham's rich and diverse history.
Read More »
Keep up to date with all things Roundhouse through our social media platforms.
Proud to be supported by: