We had a fantastic night at the West Midlands Tourism Awards, winning 'Experience of the Year' for our Bustling Birmingham Kayak Tour. A huge thank you to our amazing tour guide volunteers and our visitors for making it such a success!
After a long judging process, we were pleased to be invited as finalists to the West Midlands Tourism Awards by the West Midlands Growth Company. Tensions were high as some of our team of volunteers and staff arrived at the amazing Coombe Abbey Hotel in Coventry for the awards evening. No-one knew who had won, but luckily we didn't have to wait long – we were up second so didn't have to wait long.
After a flurry of videos – we heard 'Roundhouse Birmingham' called – we'd won!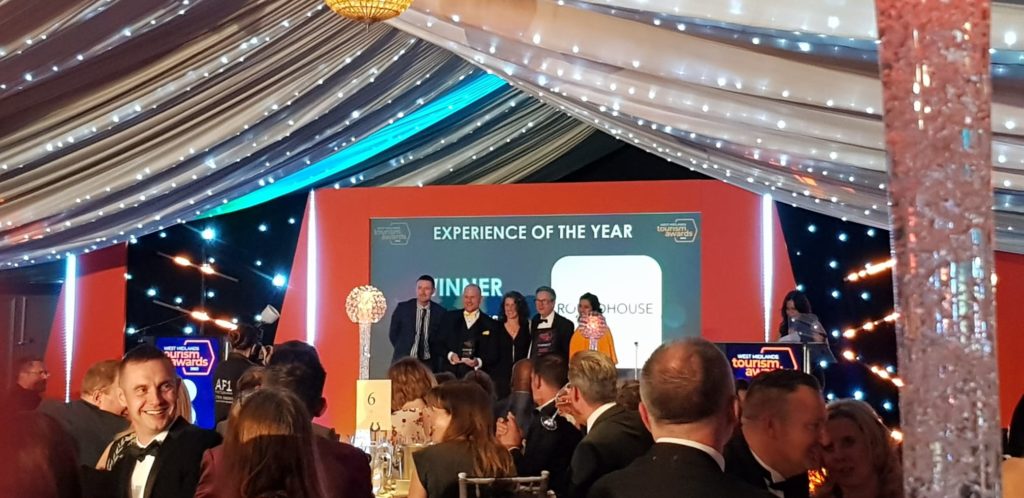 It's been almost 3 years in the making to achieve this award, but we couldn't have achieved this without the support and dedication of our volunteers. The ones who began their kayak guide training in the snow, who showed up week after week to learn more, and then proudly welcomed visitors and told them about our great city. This award is dedicated to them.
And we've just embarked on a similar journey with a new cohort of volunteers who'll be proudly showing off our great city to visitors this summer.
A BIG thank you to everyone involved in getting the kayak tours at the Roundhouse on the water.
What next? Well we aren't stopping now; we've just launched our Stand Up Paddleboard Experiences, cycling tours and walking tours. Oh, and the small matter of now automatically being qualified for the VisitEngland Awards of Excellence!
We look forward to seeing you on the water!
A blog by Keith Wraight – Outdoor Activity Manager