We're taking a closer look at each of our new tours and trails this summer. 
Here's Roundhouse Birmingham Creative Producer Chris Maher with a guide (pun intended) to what you can expect from A City in One Square – our guided city walk.
For our first ever guided walk, we wanted to showcase some brilliant Birmingham stories and spaces. On a practical level, we also wanted to introduce people to the Roundhouse from somewhere very recognisable. So, why not combine the two? A walk that starts in the city centre, and ends at the Roundhouse, but with plenty to find out in between.
Like all of our tours, we started with the idea of encouraging people to see our city differently. What can a guided tour tell you about the city, and it's people? What are the human, often hidden Birmingham stories behind the architecture and the public art works? 
Centenary Square was the perfect place for this. So A City in One Square is a tour that's all about Birmingham, sharing some essential Brummie knowledge and some perhaps lesser known stories.
Centenary Square
Centenary Square was named in 1989 to mark the 100th anniversary of Birmingham's city status, but there's plenty of Birmingham history, going much further back, at the location.
In recent times, the square has been rejuvenated, and is becoming a hugely photogenic focal point for the city. The reinvention of the Municipal Bank as The Exchange by University of Birmingham, the addition of the Midland Metro line and the upgrade to the Symphony Hall have all changed the area in recent times. Making for an eclectic space alongside the Hall of Memory, Baskerville House, and modernist gems like The REP and Alpha Tower.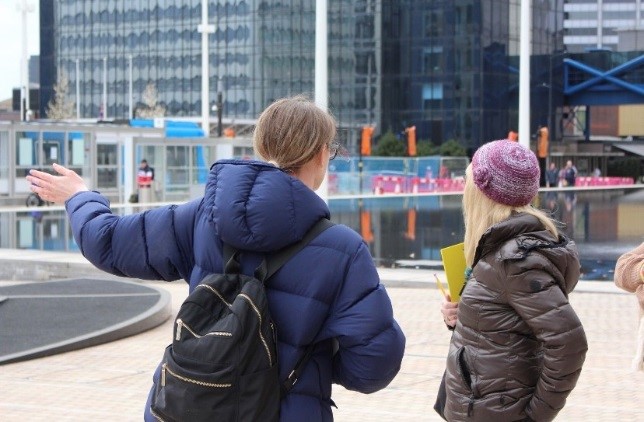 On a sunny day, the fountain once again comes to life, and the square is home to pop-up exhibitions and events throughout the year. During our development of the tour, we encountered capoeira classes, drag photo shoots, and political protest. There's always something going on; continually adding to the story of the space.
So what's in store during the tour? 
Attendees to A City in One Square will meet our volunteer guides in Centenary Square for a guided tour, before heading to the Roundhouse with a plenty of little diversions along the way.
You'll hear about Birmingham's contribution to theatre, suffragette action, the written word, the most famous Brummie you've probably never heard of, and plenty of Birmingham firsts.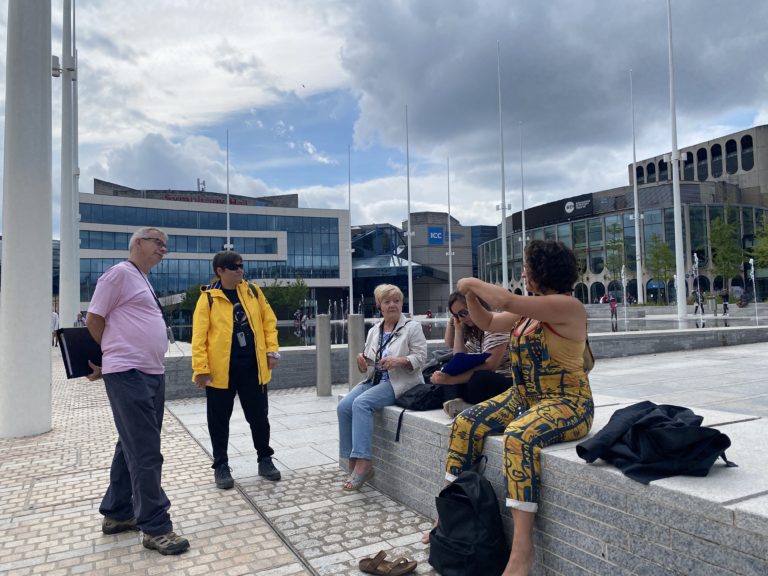 Our group of volunteer tour guides have diligently prepared for a fun, informal, and informative tour: prepare to get involved. They're incredibly eager to shout about their city. You're in for a great tour.
I'm in, how do I book?
Join us every Saturday and Sunday this summer. 
Prices start from £8 admission.
Tip: Why not double it up with our Introducing the Roundhouse tour or a kayak experience after lunch, once you've arrived?
For group bookings, contact us at groups@roundhousebirmingham.org.uk
#SeeTheCityDifferently
@bhamroundhouse