A very big hello from the team at Roundhouse Birmingham.
Now we're open, we're looking forward to welcoming you.
So, what is the Roundhouse and what can you do when you get here?
Our current visiting guidelines
The safety of our visitors, volunteers and staff remains our top priority. We'll provide hand sanitiser and have high standards of cleanliness. Face coverings inside are optional, but we respect individual choice. We ask that you respect peoples' personal space. 
We're 'Good to Go!'
Acquiring the Industry Standard mark means that Roundhouse Birmingham has followed government and industry COVID-19 guidelines, has a Risk Assessment in place and a process to maintain cleanliness and aid social distancing.
Find out more here


Welcome to the Roundhouse
You are likely to approach the building from one of two directions – either from the road or from the canal side. This is one of the things that makes the Roundhouse so special – you really can get to it by bus, by bike, or by boat! The Roundhouse site is completely free to enter, and we're really looking forward to welcoming you.
Once you've arrived, come to our Visitor Centre to find out more about this unique building. Here you can book onto one of our paid tours, peruse our shop, or view the latest exhibition. From here, you can head out on a pre-booked walk or kayak tour, or do your own self guided tour on one of our Community Routes.
You might well be wondering what happens in the rest of the building. Well we're pleased to say we will be home to some wonderful organisations who will have their offices here. Find out who they will be on our 'Who's Here' page. We're also waiting for our café to move in, so watch this space.
Our Visitor Centre is a great place to start. Located right in the heart of the 'horseshoe', this is where you can find out all about the story of the building, from when it was first built right through to today. Full of information and inspiration for your visit, you can pick up trail guides, learn some of the secrets you're about to uncover, head out to our courtyard while you plan your next move or wait for your tour to begin.
You can also find our Display Space in the Visitor Centre.
Visitor Centre Opening Times
April-September, 9.30am – 4.30pm, Tuesday-Sunday
We are open all bank holiday's except Christmas and New Year.
Advance notice. The Roundhouse will open at 11.30am on Wednesday 4 May.
October-March, 9.30am – 4.30pm, Wednesday-Sunday
Winter closing 2022 – from Monday 19 December, re-open Wednesday 11 January 2023
The main public toilets are located to the right of the Visitor Centre. There are five toilets, one of which is accessible for wheelchair users. There are also baby changing facilities.
Roundhouse has a small, quiet space located in the main building if you need a place to get away from crowds, loud noises and bright lights. We are also making this space available for those who wish to pray and for nursing mothers. Please speak to a member of staff if you wish to make use of this space.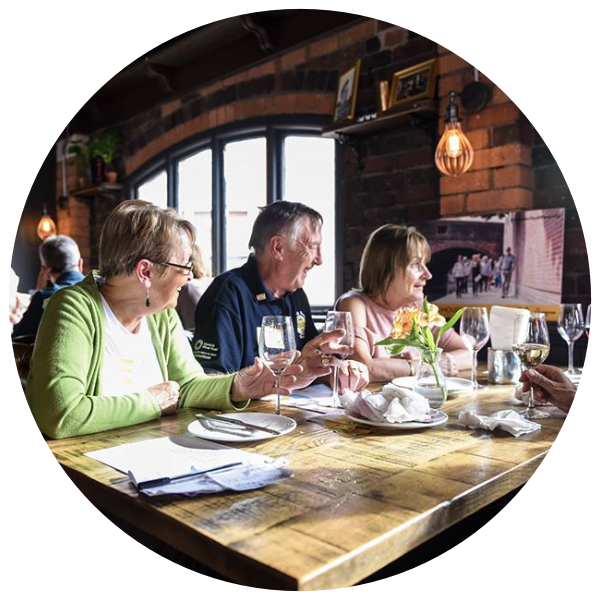 COMING SOON!
In need of some refreshment, then look no further than our in-house independent café, Jonathans in the Roundhouse. Here you'll find freshly made produce, from sandwiches and jacket potatoes to homemade pies. With an ever-changing seasonal menu, and catering to different dietary requirements, you're sure to find something to suit every taste.
For any queries about the cafe please contact Jonathans in the Park by calling 0121 420 1888 or visit their website. 
Opening early Summer 2022
Based in the Visitor Centre, you'll find our small, but perfectly formed, Roundhouse Shop. There's something for every budget – including our pocket money shoppers – and gifts for all tastes and occasions. We're also proud to be working with local artists and showcasing some of their wonderful work.
Please visit our Frequently Asked Questions (FAQs) pages for more help