About Roundhouse Birmingham
A very big hello from the team at Roundhouse Birmingham.
We're looking forward to welcoming you.
Read our story and learn how we came to look after the curious Roundhouse building
What's Roundhouse Birmingham?
Roundhouse Birmingham is a heritage enterprise and independent charity. We look after the Grade II* listed building and use it as a base for our tours and activities exploring Birmingham.   
The charity was created through a landmark partnership between Canal & River Trust and the National Trust which aimed to find a new and sustainable purpose for one of Birmingham's hidden gems, the Roundhouse.
What do we do?
Roundhouse Birmingham offers visitors a chance to See The City Differently through a range of volunteer-powered guided city and canal tours, whilst securing a sustainable future for the historic site through a range of lettable spaces. With our custodianship of the Roundhouse and its story as a starting point, we create links between our visitors, volunteers, and the city.
We believe in the social benefit of connecting people with the unique stories and special places that Birmingham has to offer, across streets, canals and public spaces.
We work with our volunteers and partners to find innovative and entrepreneurial ways to champion our city's heritage, doing our bit to make Birmingham a destination for visitors from near or far.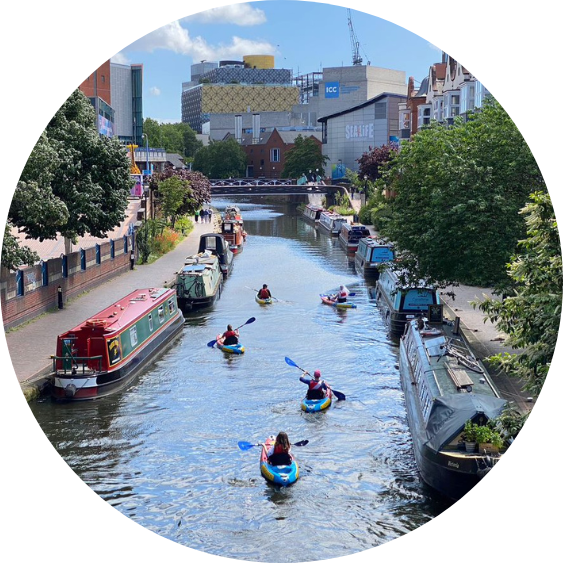 The history of the Roundhouse
In 1874, a large, circular brick building emerged on Sheepcote Street, between the London North Western Railway line and the Birmingham Canal.
Part of a massive city improvement act, the building was commissioned by the Corporation of Birmingham through an architectural competition, which was won by local architect W H Ward.
Ward's Roundhouse, then known or Corporation Wharf or Sheepcote Street Depot, was used as a stables and stores for the Birmingham Corporation's Public Works Department.
A unique example of Birmingham's civic and industrial heritage, the Grade II* listed Roundhouse has stood the test of time across many uses and some periods of disrepair.
In 2020 the building was subject to a full-scale renovation, which saved the historic fabric of the building; re-purposing the site for the 21st century.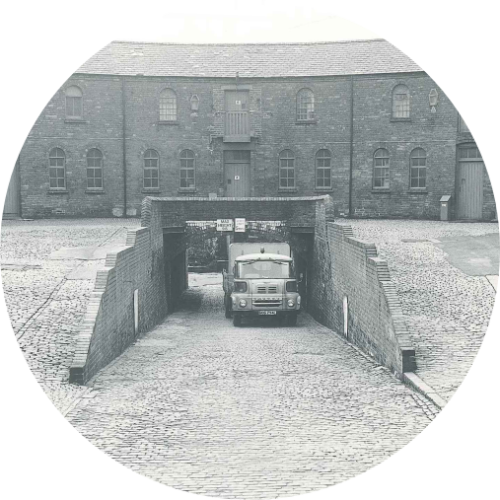 The project to renovate the Roundhouse began in 2013 and was a collaboration between a range of partners and funders.
The Canal & River Trust and National Trust are our parent organisations, they set up Roundhouse Birmingham as a charity and began the project.
National Lottery Heritage Fund awarded Roundhouse Birmingham an enterprise grant in 2017.
Historic England awarded Roundhouse Birmingham a grant for building works in 2019. 
The project also received support from Sport England and a range of supporters groups, trusts and foundations.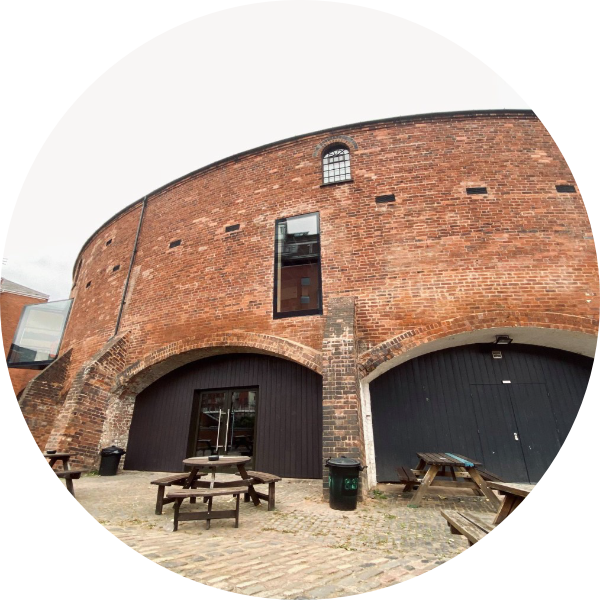 Reinventing the Roundhouse
In early 2019, the full-scale renovation of the Roundhouse building began.
The works included structural support, new windows, completely new services, roof replacement and insulation, and relaying sections of the courtyard for drainage and accessibility.
The building is split into a series of spaces; a Visitor Centre, an independent café and private offices.
Roundhouse Birmingham is an independent charity making this beautiful old building self-sustaining by giving it a new purpose. When you buy a ticket for one of our tours, purchase something in our gift shop, become one of our tenants, or make a donation, you're directly helping to support the future of the Roundhouse, enabling our work with the local community.